Dick Elliott was recognized at McLeod Seacoast with a ceremony and reception to unveil his bronze sculpture to commemorate his years of service and dedication in bringing quality healthcare to citizens of the North Strand area.
"Senator Elliott was instrumental in providing support to the Loris Healthcare System Board of Commissioners to build Seacoast Medical Center," said Ronald Fowler, trustee of the McLeod Health Board.  "His leadership was also vital in the most recent expansion of the Emergency Department and Intensive Care Unit in Loris as well.  Seacoast was built upon Senator Elliott's philosophy of communities working together for the common good."
The sculpture was created by Maria J. Kirby-Smith, a sculptor who resides and works in Camden, S.C., the same town Senator Elliott called home until 1959.  The sculpture cabinet, made of Sapele and Rosewood, was created by Chuck Black, owner and operator of The Woodshop in Darlington, S.C.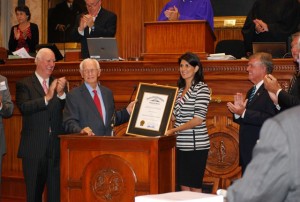 Gov. Nikki Haley awarded South Carolina's highest civilian honor to Sen. Dick Elliott of North Myrtle Beach. Haley presented the Order of the Palmetto to Sen. Dick Elliott on Senate floor, the last day of the regular session.
Sen. Dick Elliott represented parts of coastal Horry County and the Pee Dee in the Legislature for 30 years. Haley thanked Elliott for making a positive difference on those around him. She says the award is for a lifetime of exceptional dedicated service to the state.